Probe into HK pop star nude photos
29 August 2006. Bangkok Post

Hong Kong (dpa) - Hong Kong leader Donald Tsang announced Tuesday that a government review would be conducted into a magazine's publication of semi-naked pictures of a leading female pop star.
Chief executive Tsang said he would hold talks over the regulation of covert surveillance in response to the row over the sneakily-taken pictures of 25-year-old Gillian Chung.
Chung, one half of the highly successful pop act Twins, is suing Hong Kong-based Easy Finder magazine for unspecified damages over the pictures which were taken backstage during a concert in Malaysia.
The pictures of Chung were published on August 22 and show her fixing her bra during a costume change in Genting, Malaysia, less than a week earlier.
Tsang, speaking about the incident for the first time, said Tuesday he shared the public concern over the pictures and wanted to review the former British colony's covert surveillance guidelines.
He told reporters there was a need to "strike a balance between press freedom and privacy" and said he would launch the review in recognition of public concern over the photographs.
Publication of the pictures triggered an immediate wave of condemnation from entertainers, political parties, women's groups and media organizations in Hong Kong.
More than 2,000 complaints have been lodged with the media watchdog the Television and Entertainment Licensing Authority and complaints have been lodged with police and an obscene publications bureau.
The magazine publishers, who have not responded to the furore or apologised to Chung, saw sales of the magazine rise by around a third and had to organise a second print run after copies sold out.
Chung is partnered by Charlene Choi in Twins, one of a number of top Canto-pop acts whose sickly-sweet pop songs sung in Cantonese are hugely popular in Taiwan and mainland China as well as their home city.
And here is the magazine page:
Picture from Twitchfilm (http://www.twitchfilm.net/)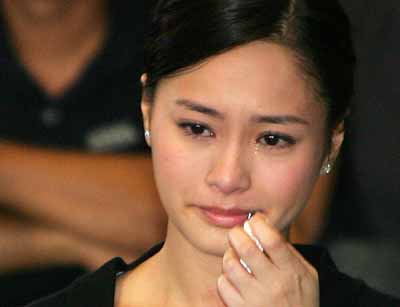 Hong Kong singer Gillian Chung cries during a news conference entitled "Privacy and dignity: Hong Kong people's business" in Hong Kong August 28, 2006. Semi-nude photos of a Hong Kong pop star Gillian Chung taken with a hidden camera have sparked an uproar among fans and women's right groups. [Reuters]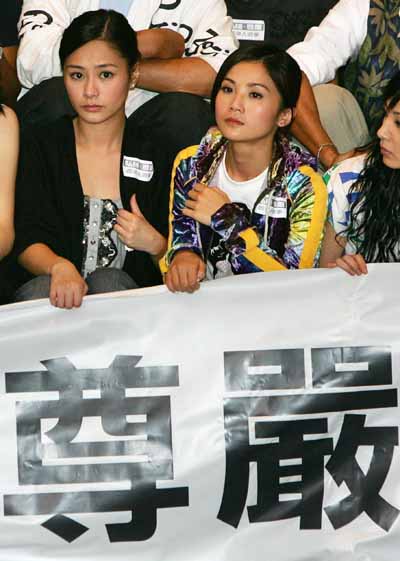 Members of Hong Kong singing group, Gillian Chung (L) and Charlene Choi hold a banner which reads "Dignity" during a news conference entitled "Privacy and dignity: Hong Kong people's business" in Hong Kong August 28, 2006. Semi-nude photos of Chung taken with a hidden camera have sparked an uproar among fans and women's right groups.[Reuters]
From
China Daily
Advertisement: Professional, ethical Expat personals in Hong Kong